It is time again for the West Asheville Open Miniature Golf Tournament!
Saturday, October 17, 2015 • Tropical Gardens, 956 Patton Avenue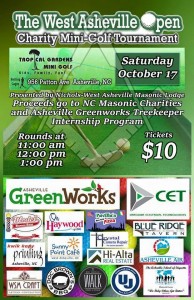 Nichols West Asheville Lodge #650 would like to invite you to participate in the fundraiser this year. With the help of generous donations and sponsors, they have raised over $5,000 for local and statewide charities with the past two tournaments. They hope to continue growing this event by increasing participation among community members as well as local businesses – making it something folks look forward to participating in year after year.
Nichols West Asheville Lodge #650 is excited to announce that this year they will be partnering with Asheville GreenWorks to help support their ongoing work in our community. The fundraiser will also support North Carolina Masonic charities: the Masonic Home for Children in Oxford, NC, and Whitestone Retirement Community in Greensboro, NC, both of which serve families in need across our state.
Sponsor a hole for $100 or anchor the event with a $500 contribution. Please see the sponsorship form – PDF download >> WA-Open2015-Sponosrship-Form It contains details about how to donate as well as relevant contact information. Businesses are also encouraged to come out and play a round of mini-golf on October 17th. It would be great to share some food and fun with our sponsors as well as have the opportunity to thank you in person for your ongoing support.
Golf rounds will be at 11:00am, 12:00pm, and 1:00pm.
Register your team of 4 or 8 with your sponsorship.
Additional information about the organizations that will benefit from your contributions can be found here:
http://www.ashevillegreenworks.org
http://mhc-oxford.org
http://liveatwhitestone.org
For additional information, contact:
Alan Wray
Worshipful Master
Nichols-West Asheville Lodge #650
westashevilleopen@gmail.com
---
Share this story to...