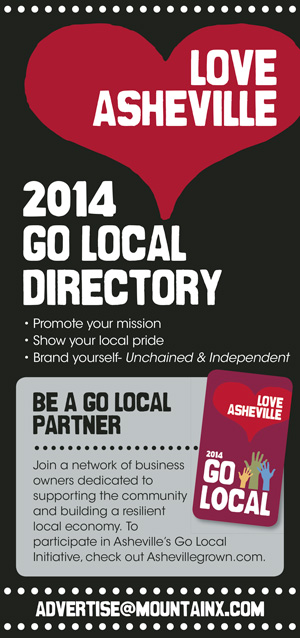 LOVE ASHEVILLE – Don't miss out on being part of the 2014 Go Local Card Directory!
Deadline: Friday, November 8
45,000 copies of the directory will be distributed throughout 2014. Listings are FREE, and can include your living wage and/or ASAP certification.
It is also an amazing opportunity to reach 4,000 school kids and their families and create a direct connection between your business, our local economy and the next generation. There are also some inexpensive advertising opportunities that allow all businesses, no matter the size, to have increased visibility and fly their local flag in collaboration with some of the finest in Asheville.
Participation is free, however, every participant in the Go Local program offers Go Local cardholders an exclusive discount or special deal. As a participant, you must honor your offer to cardholders for 13 months from Dec. 1, 2013 through Dec. 31st, 2014. Details and more information here: http://ashevillegrown.com/go-local-card-2012/become-a-go-local-card-partner/
Sign up form here: http://forms.mountainx.com/go-local-2014-business-participant-application/
Check out
---
Share this story to...