Welcome SoCon back to Asheville, March 8-11, 2013!
The 2012 SoCon Tournament brought in 8,000 visitors and resulted in a $4 million economic boost during a historically slow time of year.
Last year's tournament broke records with over 41,000 combined attendance at the men's and women's games. That is 18% higher then any previous tournament. Being that SoCon was established in 1921, that is quite an accomplishment. Thanks Asheville!
This is terrific boost to our economy and great fun. Games are played downtown in the U.S. Cellular Center or at UNCA's Kimmel Arena.
Complete tournament information can be found at SoConTravel.com
Overview of SoCon in Asheville (pdf) • Business Information Sheet (pdf)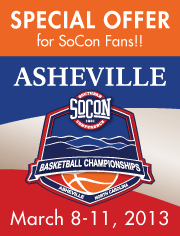 If your business is interested in offering discounts or specials to SoCon fans download a Special Offer Poster and Web Graphics to display.
Show your support by displaying a Ticket Info Poster (pdf)
Printed posters, coaster and window clings are being distributed. If you need some or some more, contact Alice Oglesby, alice@iodesign.net or Russ Towers, russ@secondgearwnc.com.
And keep an eye out for The Hop, scooping it up at games in both locations!
---
Share this story to...