From City of Asheville
Asheville Fire Department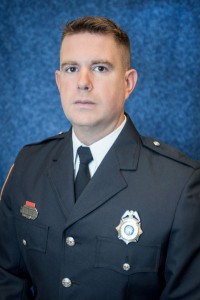 Asheville, NC (January 21, 2016): Each year the WNC Association of Firefighters gives an award to an outstanding individual who has distinguished himself or herself in the fire service. The association accepts nominations from across the western part of state from 428 departments and over 13,000 firefighters. This year, Asheville firefighter Trey Young was chosen as WNC Career Firefighter of the Year. Trey was recognized and presented this award on January 20, 2016 at the WNCAFF quarterly meeting.
Trey has been in the fire service for 14 years, serving the Town of Weaverville Fire Department and here in Asheville with our Fire Department. Trey is a Senior Firefighter with our department and is currently assigned to our Rescue Company at Station 3 (located at 50 Oregon Avenue, West Asheville).
Chief Burnette states, "He is an outstanding firefighter for the City of Asheville and consistently models the way for the members of our fire department."
Trey strongly supports the importance of formal education. He is close to completing his Bachelor's Degree in Fire Science with a concentration in Fire Management. His pursuit of continuous learning and improvement is very evident. Trey also has contributed significantly to the fire service. He led a Critical Task Analysis of our Rapid Intervention Team procedure which has changed our approach to save our own. Trey's Rapid Intervention Team procedures are so robust that he has been asked by other fire departments around the country to teach them a better way to do RIT.
Trey is very committed to firefighter safety. He has been an instructor at the North Carolina Breathing Equipment and Firefighter Safety and Survival School for 7 years. Through this involvement he has improved firefighter safety to thousands of firefighters in our State.
"Trey's character is second to none," boasts Chief Burnette. "He is an outstanding person and Firefighter. He represents the City of Asheville and the Western North Carolina Association of Firefighters to the highest level of integrity and ethics".
---
Share this story to...